Welcome to Rec Room!
Rec Room is a community driven co-working space located in Downtown Rocky Mount offering low-cost monthly memberships for entrepreneurs, remote works and other business professionals.
Rec Room will host monthly events included but not limited to workshops, seminars, networking events and other business professional events.
Why Co-work?
There are several advantages to co-working:
It provides networking opportunities. You never know if you will meet your future partner, investor, collaborator, employee or employer at Rec Room.
It offsets the feeling of loneliness most remote workers feel after endless isolation of remote work.
It gives you the chance to mingle with people from all walks of life and across industries.
A harmonious atmosphere that is not plagued by office politics, gossip and conflict like traditional offices can sometimes be.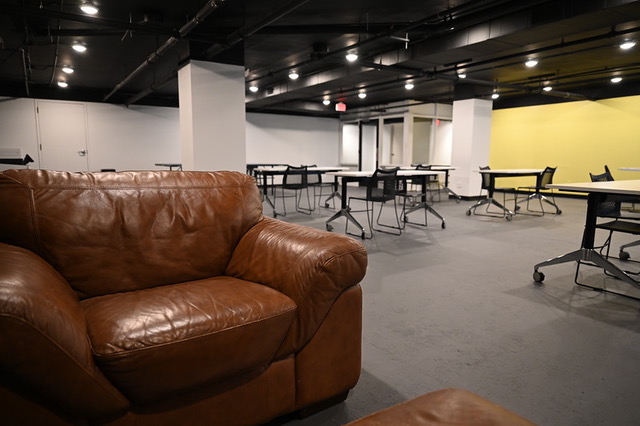 Meet Tierra Norwood
Tierra Norwood is the Operator of Rec Room. Norwood is no stranger to Downtown Rocky Mount or the Entrepreneural Ecosystem of Nash and Edgecombe counties. Before becoming a full-time entrepreneur, Norwood held roles with the City of Rocky Mount, NC Department of Commerce and the Small Business Center at Nash Community College. Norwood plans to offer on-going events and networking opportunities for members and potential members.
Have general questions about Rec Room? Call 252-388-8020
To discuss potential sponsorships, collaborations or events, email Tierra Norwood at recroom@stationsquarenc.com or call her at 252-512-0390.
Now accepting applications for new members!
Rec Room will begin accepting members August 1, 2022. If you are interested in acquiring a co-working membership, complete the application and turn it in to Station Square Administration located at 301 S. Church St. Rocky Mount, NC 27804
Rec Room provides affordable monthly for co-working space memberships.
Basic Co-Working Membership $70 per month with a 3-month minimum
Membership includes:
24/7 Access
Free high speed fiber optic internet
Free printing
Notary Services on-site
Conveniently located Downtown near a coffee shop and wine bar.
Access to TV, Dry Erase Boards and more
Access to private use of space for professional events
(Free for private use once per month 2 hr. max, Reservation rate of $25 per hour after use of free monthly reservation of space.
Kitchen area with fridge, microwave and seating.
Exclusive discounts, and access to events!
Access to FREE business training classes
Free Marketing! Having an event, sale or just need more clients/customers?
We share all member events on our social media and provide business shoutouts and free promotion via Rec Room Information Center
Questions about the application process? Contact 252-388-8020