Welcome to the Downtown Business Center at Station Square Rocky Mount!
The Downtown Business Center is a community driven co-working space located in Downtown Rocky Mount offering low-cost monthly memberships for entrepreneurs, remote workers, and other business professionals.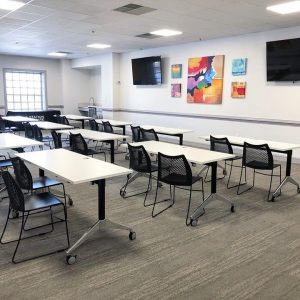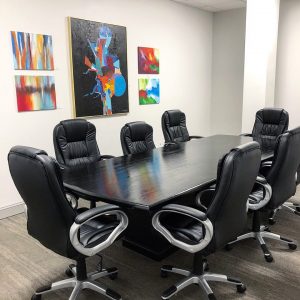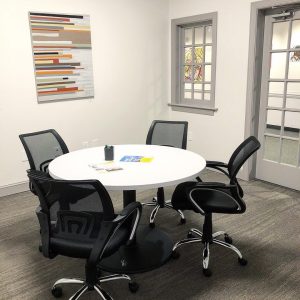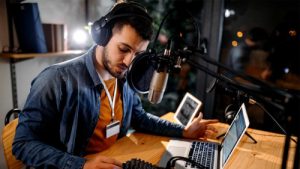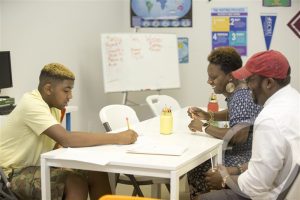 Now accepting applications for new members!
You may be wondering what has changed? Exciting times are on the horizon for The NEW Downtown Business Center! We are in the process of making some great improvements to the spaces in The Downtown Business Center at Station Square.
If you haven't already noticed, Station Square is rebranding our coworking and shared use spaces as 

The Downtown Business Center at Station Square.

136-Memberships & Rec Room Memberships have now been combined giving all users the availability to reserve 7 spaces throughout the property at no additional cost.
Membership Fee is $125.00 / month
A new large SMART TV has been added to the 140-Conference Room.
A new SMART TV is being ordered for the Suite 10 Conference/Boardroom.
A new ZOOM/Conference room has been added to the Rec Room and a comfortable social seating area.
Podcast Studio One Membership add-on is being developed.
REMINDER – appropriate space usage:
Please remember to book spaces according to how many people will be in attendance. Please do not book the RecRoom, 136-Training Room or the 140-Conference space if you have LESS than 10 people without prior authorization. There are plenty of spaces for small groups and single workers.
Do not book the space for friends, other businesses or sublet the space to other individuals. This is grounds for immediate dismissal of your membership. You must be present and participating.
The Downtown Business Center is NOT to be reserved for Religious Services, Parties, Receptions or Social Gatherings. This will be grounds for immediate dismissal of your membership.
The Downtown Business Center 

is to

be used for meetings, training, conferences, Lunch & Learn Business Events, First Friday Coworking and Business Presentations, one-on-one peer mentoring, ZOOM / Board Meetings, employee orientations, a personal workspace, peer support, business enhancement, team building exercises, client meetings and presentations. Prior authorization will be required for other requests. Permission will be granted IF the event falls within the approved guidelines. 

You may serve refreshments/food if it is for your meeting and attendees. If you are having food delivered during normal business hours, please advise the Front Desk so we know who it is for.
WELCOME to The Downtown Business Center at Station Square! We are pleased to have you.
Membership includes:
7 Days a week access to most conference spaces
Free high speed fiber optic internet
Notary Services on-site for a small fee
Conveniently located Downtown near the Train Station, coffee shops, restaurants, and wine bar.
Access to SMART TV's, Dry Erase Boards and more
Kitchen areas are available with fridge, microwave, and seating.
Questions about the application process? Contact 252-388-8020